December 11, 2007
Staying in Shape
There's more to staying healthy when you travel besides trying to eat right and not get sick. You also want to keep yourself limber and in decent shape, especially if you want to be ready for the large variety of adventure activities that seem to await you at every turn while you are traveling. It's not an easy prospect, however; small rooms, irregular schedules, and plenty of things to distract you from staying in shape all make it tough to fully maintain your health while traveling for an extended period of time. Here are some tips to keep you from letting yourself go (unless you really want to) while having the adventure of a lifetime.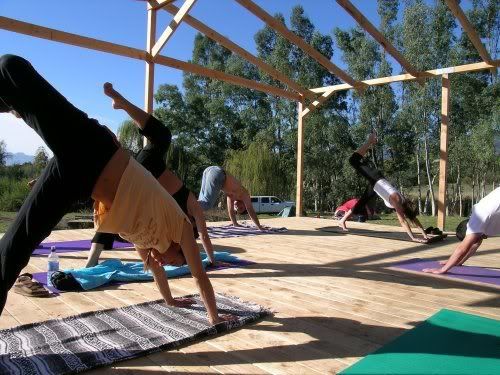 If you travel for an extended period of time, say anything over a month, then you need to realize that even though every day is different, you still need to find some regularity in your life. If you treat every meal like an opportunity for a feast, three meals a day for a month, six months or a year, chances are you'll notice a difference. For me, trying new foods is one of the most enjoyable aspects of travel. I also have a hard time saying no to a cold beer at the end of the day when I'm in a foreign place, even if I've spent every day of the past year in a foreign place.
However, if you're interested in maintaining a healthy lifestyle, something has to give. I would recommend trying to keep a general sense of how you're eating when you travel. Take a note or just keep a mental tally of how you're eating. If you feel like you've been going at it with abandon for a week or so, maybe it's time to take it down a notch. Search for healthy alternatives, make sure to eat your fruits and vegetables, and you'll probably feel a lot better.
As far as staying physically fit, try to find some kind of routine that you can do anywhere. Walking isn't always enough to exercise the whole body. I met lots of travelers who practiced yoga everywhere they went. It's a great stress reliever, as well as good exercise. And if you bring a roll-up mat with you, you can do it just about anywhere. It's a popular activity for the beach, and it's also a great way to relax and decompress.
Other ways to stay fit in small spaces include push-ups and sit-ups, basic stretching, jumping jacks, and jogging in place. A ten or fifteen minute routine a few times a week will get the blood flowing and keep you feeling good.
Remember, when traveling for a long time, it becomes your lifestyle. If you want to maintain a healthy and active lifestyle, pay a little attention to your activity level and what you eat. Of course you don't have to do anything rigorous while traveling if you don't want to, but paying attention to your diet and making sure you get the occasional bit of exercise will keep you healthy and feeling great, even as you travel the globe.
Got any tips for eating well and staying fit while on the road? Share them in the comments!

« Staying Healthy on the Road | Home | Planning a splurge »